Buying a home is full of stress because it is typically the biggest investment that a family makes.  One of the fears is the associated risks of possible structural or safety issues.  There is no home that is perfect.  Some homes have minor issues and some have major issues.  Our job as Professional Inspectors is to provide you with the information that you need to make an informed decision about your investment. 
Here is a Google map of inspections we have performed over the last several years.  


We serve the Houston region including- Katy, Sugar Land, Missouri City, Richmond, Stafford, Bellaire, Pasadena, Humble, The Woodlands, and Tomball. Other areas may be available upon request. Military and first responders receive a 10% discount (ID required)
Types Property Inspected - Call/text for pricing
Residential Property for Buyers and Sellers -Includes Thermal imaging
New Home Construction Phase Inspections - 3 Phases -Foundation Pre-pour, Pre-insulation and Pre-closing
One Year Warranty Inspections - This inspection should occur 11 months after purchase. 10% discount if pre-sale inspection was performed by Texas House Check.
Commercial Property Inspections

At each property we inspect the following:
Foundations
Framing
Wall Cladding Systems
Electrical
HVAC (Heating, Venting and Air Conditioning)
Fixed Appliances
Roofs
Plumbing
Grading and drainage
Optional inspections: Call/text for pricing
Swimming Pools - We inspect the pool operation, Ingress safety, water quality.
Pier and beam foundations
Foundation Mapping - We map the foundation levelness 
Thermal Imaging
Grade Mapping 
Irrigation system 
Mold Assessment, consultation andTesting - Call Anthony directly (Mold Assessor Consultant)
WDI (Wood Destroying Insects - Termites, etc.)
Well and septic
Water coliform/pathogen testing
Stucco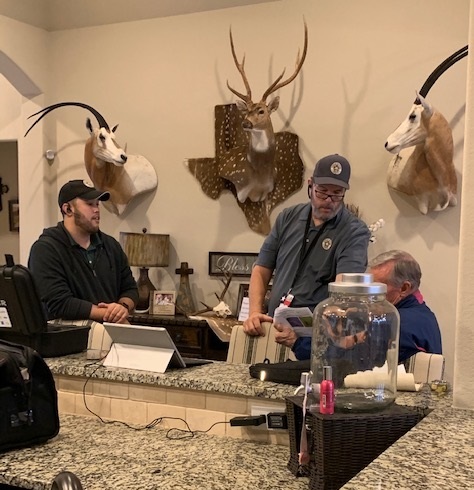 We specialize in the GREATER HOUSTON and SURROUNDING AREAS, we even make special trips to Austin and Dallas (trip charges apply).
Memorial Katy Sugar Land Stafford Pearland League City Heights Piney Point Woodlands Kingwood Galveston Baytown Beaumont Houston Sugar Land  Missouri City Cypress Tomball Sienna Plantation League City 
77493 77449 77494 77450 7709477002, 77003, 77004, 77005, 77006, 77007, 77008, 77009, 77010, 77011, 77012, 77013, 77014, 77015, 77016, 77017, 77018, 77019, 77020, 77021, 77022, 77023, 77024, 77025, 77026, 77027, 77028, 77029, 77030, 77031, 77032, 77033, 77034, 77035, 77036, 77037, 77038, 77039, 77040, 77041, 77042, 77043, 77044, 77045, 77046, 77047, 77048, 77049, 77050, 77051, 77053, 77054, 77055, 77056, 77057, 77058, 77059, 77060, 77061, 77062, 77063, 77064, 77065, 77066, 77067, 77068, 77069, 77070, 77071, 77072, 77073, 77074, 77075, 77076, 77077, 77078, 77079, 77080, 77081, 77082, 77083, 77084, 77085, 77086, 77087, 77088, 77089, 77090, 77091, 77092, 77093, 77094, 77095, 77096, 77098, 77099, 77201, 77336, 77338, 77339, 77345, 77346, 77357, 77365, 77373, 77375, 77377, 77379, 77386, 77388, 77396, 77401, 77406, 77407, 77429, 77433, 77447, 77449, 77450, 77477, 77478, 77484, 77489, 77493, 77494, 77498, 77503, 77504, 77506, 77520, 77530, 77532, 77536, 77546, 77547, 77571, 77587, 77598. 77459, 77469, 77477, 77478, 77479, 77498. 77354 77375 77380 77381 77382 77384 77385 77386 77389, 77449